In our daily life, we often see brightly colored and uniquely shaped plates, which are the effect of aluminum plates after bending. However, the aluminum plate is easy to break after bending, or burst good anodizing after bending, the following are the factors that affect the bending of the plate.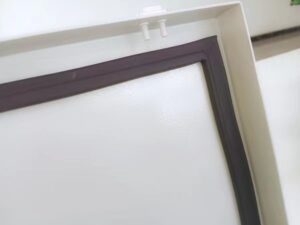 1, the hardness of the aluminum plate: aluminum plate is too hard, it is easy to fracture. This requires a good selection of aluminum plate, mainly depending on the grade and state of aluminum. General 1 series, 3 series, 5 series are more commonly used; 6 series, 7 series of hardness is too high, to do annealing treatment to O state before bending.
2, the thickness of the aluminum plate: too thick aluminum plate is not good bending, try to use thinner aluminum plate.
3, the size of the bending R angle: the larger the bending R angle, the higher the success rate, so try to bend the R angle as large as possible.
4, aluminum plate grain direction: bending direction should be perpendicular to the direction of the aluminum plate grain, not parallel.
5, the need to draw the aluminum plate parts, in the process is best to allow bending and then drawing forming, otherwise it will increase the probability of bending fracture.
The above is about the aluminum plate bending process considerations introduced here, the main adjustment of these aspects, you can avoid the phenomenon of aluminum plate bending fracture.
Custom Metal Box Manufacturers | Custom Sheet Metal Enclosures | Custom Aluminum Box | Custom Sheet Metal Boxes | Custom Metal Boxes | Sheet Metal Supplier | Steel Box Manufacturers | Sheet Metal Box Manufacturers | Custom Made Metal Boxes | China Sheet Metal Manufacturer | Outdoor Vending Machine Enclosures | Industrial Machine Enclosures | Metal Enclosures for Electronics | EV Charger Outdoor Enclosure | Outdoor EV Charger Enclosure | EV Charger Enclosure | Custom Aluminium Box | Custom Steel Box | Metal Box Supplier | Metal Enclosure Manufacturer | Sheet Metal Enclosure Manufacturers | Metal Enclosure Box Manufacturer | Metal Enclosure Manufacturer | Aluminium Box Manufacturer | Outdoor Equipment Enclosures | Aluminium Box Manufacturers | Equipment Enclosures Metal | Metal Enclosure Box | Metal Enclosure | Enclosure Box Price | Sheet Metal Manufacturers | Sheet Metal Manufacturing companies | Custom Made Aluminium Boxes | Custom Made Metal Box | Aluminum Sheet Metal Fabrication | Aluminium Sheet Metal Fabrication | Auminium Tool Boxes Made to Order | Custom Metal Enclosures | Custom Stainless Steel Box | Custom Made Aluminum Boxes | Metal Box Manufacturers | Custom Steel Enclosures | Custom Stainless Steel Enclosures | Custom Metal Box | Custom Aluminium Box | Sheet Metal Fabrication Supplier | China Sheet Metal Fabrication | Custom Sheet Metal Fabrication | Sheet Metal Fabrication Services | Metal Manufacturing in China