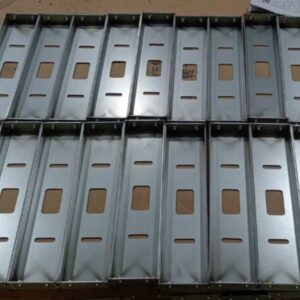 At present, in the sheet metal market, sheet metal shells are widely favored and loved by many customers because of their simple structure, flexible changes, easy handling of internal structure, and sufficient strength and good rigidity, simple processing technology, short production cycle and many other advantages. However, we sometimes need to go through the process of die-casting in the process of sheet metal shells. The following matters should be noted in the process of die-casting for sheet metal shells:
1、Consider the release of sheet metal shell in the process of die-casting.
2、Consider the problem of sheet metal shell in die-casting wall thickness, the gap of thickness is too large for filling.
3、Some die-casting shells may have special requirements in appearance, such as oil spraying, so extra attention should be paid to these aspects during the die-casting process of sheet metal shells.
4、In the structure of the sheet metal shell, it should be avoided as much as possible that the structure leading to the complex structure of the mold appears and multiple cores or spiral cores have to be used.
5、The sheet metal shell should be designed with the mold in mind. If there are multiple positions of core extraction bits, try to put them on both sides, and it is better not to put them on the lower core extraction, so that in the case of long time, problems may occur when the sheet metal shell is under die-casting core extraction.
To sum up, these are some matters to be noted in the process of die-casting sheet metal shells. Sheet metal shells have become a more prominent form of processing in the sheet metal processing industry. Its production and processing generally go through many process contents such as material preparation, unfolding and proofing, cutting blanks, forming and assembly to complete, and because cold work sheet metal shell processing is often combined with processes such as welding, metal cutting, heat treatment and inspection to form a complete product manufacturing process.
Dongguan Jiatong Precision Hardware Products Co., Ltd. is the production of electricity, electronics with aluminum alloy heat sink, intelligent electronic products shell, shielding box, aluminum shell, shell processing, aluminum shell CNC, CNC processing parts, aluminum chassis, industrial control computer chassis, display screen shell, all aluminum shell enterprises. With a group of technically strong and experienced managers and technicians. From mechanical processing to post-surface treatment, advanced technology and techniques are used, with excellent heat dissipation performance of the new generation of products. If you are now looking for a sheet metal manufacturer, a good choice is Dongguan Jiatong Precision Hardware Products Co.
Custom Metal Box Manufacturers | Custom Sheet Metal Enclosures | Custom Aluminum Box | Custom Sheet Metal Boxes | Custom Metal Boxes | Sheet Metal Supplier | Steel Box Manufacturers | Sheet Metal Box Manufacturers | Custom Made Metal Boxes | China Sheet Metal Manufacturer | Outdoor Vending Machine Enclosures | Industrial Machine Enclosures | Metal Enclosures for Electronics | EV Charger Outdoor Enclosure | Outdoor EV Charger Enclosure | EV Charger Enclosure | Custom Aluminium Box | Custom Steel Box | Metal Box Supplier | Metal Enclosure Manufacturer | Sheet Metal Enclosure Manufacturers | Metal Enclosure Box Manufacturer | Metal Enclosure Manufacturer | Aluminium Box Manufacturer | Outdoor Equipment Enclosures | Aluminium Box Manufacturers | Equipment Enclosures Metal | Metal Enclosure Box | Metal Enclosure | Enclosure Box Price | Sheet Metal Manufacturers | Sheet Metal Manufacturing companies | Custom Made Aluminium Boxes | Custom Made Metal Box | Aluminum Sheet Metal Fabrication | Aluminium Sheet Metal Fabrication | Auminium Tool Boxes Made to Order | Custom Metal Enclosures | Custom Stainless Steel Box | Custom Made Aluminum Boxes | Metal Box Manufacturers | Custom Steel Enclosures | Custom Stainless Steel Enclosures | Custom Metal Box | Custom Aluminium Box | Sheet Metal Fabrication Supplier | China Sheet Metal Fabrication | Custom Sheet Metal Fabrication | Sheet Metal Fabrication Services | Metal Manufacturing in China | Aluminum Box Fabrication | Sheet Metal Box Fabrication | Sheet Metal China | Precision Sheet Metal Fabrication | Custom Aluminum Box Fabrication | Custom Metal Box Fabrication